VINs (Vehicle Identification Numbers) were introduced for all Porsche models manufacured after 1981, and consist of 17 characters. All over the world car manufacturers use VINs as a vehicle identification tool. (The letters O, I and Q are not used in a VIN as they can be mistaken for the numbers 0 and 1. However they didn't envisage the same issue with the number 5 and letter S which often catches me out!)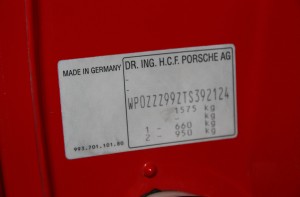 If you're interesting in decoding your Porsche's VIN this link explains what each of the 17 digits represent.
However, you can also use the VIN to find out more detailed information about your own vehicle or a prospective Porsche purchase by running a VIN check. There are a number of suppliers of VIN checks, at NINEAUTO we tend to use CheckVIN.com.au at a cost of AUD $9.90 per check.
Here's a screen shot of the report you'll receive back. (In the interests of privacy we have made changes to the report, but it remains indicative of the information you'll receive back from your search.)