If you have experienced wet front carpets or ongoing electrical issues, the problem could be that you have blocked plenum drains. Cayenne's have a series of drain systems that take water from the sunroof, where the bonnet meets the windscreen and also the side sills. If you hear sloshing after a heavy rain, it's likely that one of these drains may be blocked.
A blocked plenum drain can cause water to flood electrical components or flow through certain holes in the firewall into the cabin. We recently had a Cayenne with a wet passenger foot well due to a blocked plenum drain. This is always concerning as underneath the carpets are wiring looms, and overtime wetness can easily lead to wire corrosion and shorting!
Plenum drains can become blocked from leaves, small sticks and other debris getting clogged in the drain outlets (or the main chambers in severe cases). The drain outlet has been cleverly designed to allow water out and prevent bugs/debris getting back up, but can easily get blocked if leaves, sticks or other debris gets caught in the drain.
Image – Drain Grommet. The grommet ends star design narrows to allow water out but prevents bugs/debris getting back in. This can get blocked if the debris is already in the drainage system.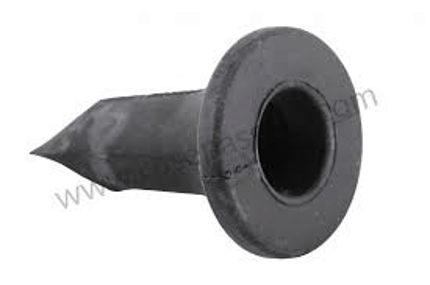 As part of an annual service the plenum drains should inspection to ensure that they are free from debris and water cannot get trapped and accumulate. To prevent blocked drains, we recommend routine cleaning of the drain outlets. However, accessing and cleaning each of the drains can be a challenge if you don't have a hoist and aren't confident removing access panels and wheel arch liners.
If you suspect a blockage in your Cayenne plenum drains, please bring it in to NINEAUTO and we'll check it over for any blockages.