Life is full of expectations, some fulfilled, others not. And tough breaks too. For many of us, if you're like me, our formative years were spent obsessed with anything that turned petrol into noise, preferably with four wheels, but that wasn't essential. We spent Sundays in front of the old black and white TV watching the hill climbing from Lakeland, just on the outskirts of Melbourne. Remember Brian Davies from Brian's Speed Shop? He used to spread Auto Products across the bonnet of his Big Chevy and drawl at the camera in his monotone, imploring us all to "Come and Buy". Some Sundays the telly would delight us with the cut and thrust, the biff and bash of Beechey, Jane, Geoghegan, Moffat, McEwan, Manton et al, initially in Chevy Novas, Mustangs, Cortinas and Minis respectively, then in Monaros, Camaros, Mustangs and Porsches, wheels dangling in the breeze, handfuls of opposite lock, swapping paint, ducking and weaving. Occasionally the Old Man would take me out to the boon docks which was Calder Raceway (pre Bob) or Sandown, or once or twice, to the Lakeland Hill Climb.
So what's so tough about that? Bugger all. On the contrary, it was a hoot. The tragedy becomes evident when I tell you that the first car I really got to know, the one that made me think I could mix it with the big boys down Mountain Straight, was almost an Aussie Muscle Car…but not quite. A Valiant Regal. 1968. Metallic bluey-green. Green vinyl interior. Two-tone steering wheel. And best of all, it had the "160 HP" badges on the front guards to warn everybody that this was a serious bit of kit. Honest. It was bought brand spanking new as the Old Man's company car and served the cause admirably. It towed bloody great trailers with bloody great water tanks up rough, twisted, unmade, mountain roads to the family farm. It took four of us around Tassie, lugging along behind it the rented caravan. It did all this and more, comfortably and reliably. And it went. Quite quickly in the context of the period. The ubiquitous Chrysler Slant Six kept on keeping on. No radio, no power steer, no air-con, but then these little luxuries were not on our Vietnam-Era list of expectations.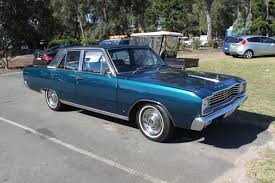 In this stylish example of 60s motordom I learned to drive. And having done so, I got The Licence. And so I disappeared, with willing accomplices, into the Great Unknown to let the real learning begin. The expectation was almost unbearable. Was it fulfilled? Yes and no. And was it fun? Did we laugh? God yes! Sometimes we laughed so hard we choked. The Old Greek Mercedes was comparatively rapid, certainly, but that's not what made us kack ourselves. The side-splitters came when we (almost always "we", two, usually three of us) attempted a corner. The corner is the natural enemy of the Valiant. The way the skinny, little cross plys and the soggy torsion bar front would completely ignore the instructions sent down from the wheel-house was truly spectacular. Wet roads were another riotous entertainment. It was the only chance we got to hurl the big bugger into such an attitude that I was obliged to peer out the passenger side window to see where we were headed. Oversteer. What we had to do to overcome the natural tendency to understeer was little short of brutal. So, the fact that it didn't immediately handle like Doug Chivas Charger was a disappointment. Expectation unfulfilled.
On one thigh-slapping occasion, on a damp, greasy road out Eltham way, I was encouraged by accomplices to "Get It Sideways." Why not. A big boot of neddies, an arm full of lock and away we go! Here it comes! Whoa! Too far, too far! Opposite lock. It's coming back, it's coming back. Whoa! Too far, too far! More opposite lock. It's coming back again, it's coming back. By now you can see a pattern emerging. Wayward front end, four turns lock-to-lock and misguided ambition are a sure recipe for disaster. But laugh! The mate in the back, Jim (also a PCV member – my how we've grown), was sitting mid-seat, arms outstretched, bracing himself on each door handle laughing like a drunken tattooist, to the point of tears. The mate in the front took on the appearance of a big, white knuckle. When we finally prised his fingers out of the dashboard padding we had to tell the Old Man some sort of nonsense to explain the indentations. The look of terror lasted for days. What makes it even funnier was that these heroic feats took place at no more than 60 kays.
But all that build up to the day I got my license had led me to expect that, I would be really good, straight off, regardless of the car. Expectation unfulfilled.
Later, I was allowed to treat the beast as my own. Only now I was able to play with it to get it to go faster, both in a straight line, but more importantly around corners. The first purchase was a bright orange K-Mac sway bar. Remember them? We carefully fitted this to the back of the beast and set out to see what she could do. Hang on, it's worse. Now it really wants to go straight on. So we put one on the front. Aah! Tha's better. Shockers. We need shockers. A limited budget meant that we didn't have a lot to spend, but what we got we spent. So off to a fledgling Pedders for a set of "Pedders Reds". Now, this is better, but it still ain't no Alfa Giulietta. All this newly acquired handling and sophistication (!) pointed out weaknesses elsewhere. Brakes. What brakes. We would find our selves sweeping from bend to bend rather more rapidly than before only to find that we couldn't slow down as we should've. So our expectations changed. We expected to stop when we needed to. We expected to change tyres every few thousand kays. We expected to spend all our hard-earned on new bits and pieces. Therefore, new expectations fulfilled.
Finally I saved enough to buy my own. But instead of another Valiant, I figured that something European and classy would be the bees knees. Porsches weren't on my radar back then – a bit pretentious I thought. So an Alfa Romeo looked the goods.
After a bit of a search I stumbled across something that I'd always coveted, late '60s 105 Giulietta. Or GTV as I had come to know them. It was sitting forlornly in a car yard close to home, amongst 2 or 3 rows of more recent dross, trying to be inconspicuous.
I drove it. And I wanted it. I really wanted it. I couldn't afford it.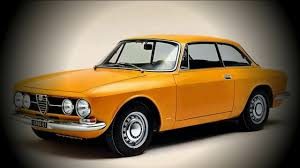 So I did what any aspiring yuppie would do….I grappled with the concept of debt. This meant approaching the only likely ready source of a loan, my father. A stern man of great knowledge and wisdom who was not well known for his flamboyance with the coin. And the response. A resounding ,disdainful "No!" And a lecture about the flippancy of acquiring what you cannot afford and the dangers that lay therein. And on…and on…and on… (much like the lectures I have subsequently given my own sons!!).
The blow was so devastating that, in the short term, I lost the will to borrow. Expectations unfulfilled
But I persevered. I finally bought my first Alfa, a hand-me-down from my well-to-do sister. (How embarrassing that my car-ignorant sister owned an Alfa before me!) Alfetta sedan. Here we go! European sophistication! With great expectation I took to the roads…Hmmm. It wasn't anywhere near as fast as my rally car. Nor did it handle as well, even with a set of Konis and a set of Momo wheels. The headlights were yellow; the quirky door handles broke many a girl friend's nails. The air conditioning was asthmatic, the gear change was like a wooden spoon in a pudding bowl. But it was an Alfa Romeo. It was cool. It was different. It showed good taste and an appreciation of the finer things in life. And I loved it.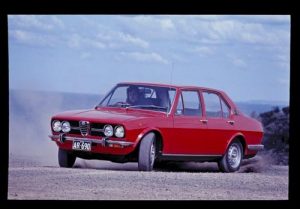 Then the exhaust fell off. One window stopped winding. The front seat would recline itself. The gear box got worse and worse. And I pranged it. Just a dint to the back near side door.Then the rust appeared. Along the tops of the doors and at the bottom too.
Expectations unfullfilled
Our expectations these days are a world away from these simple times. Today we expect our Stuttgart products to spring to life at the first turn of the key, this time and the next and the next. If it goes off-song, we expect our highly trained techs (that's you, Stu!) to plug in the plug, twiddle the dial and make it right again.. Therefore, expectation fulfilled.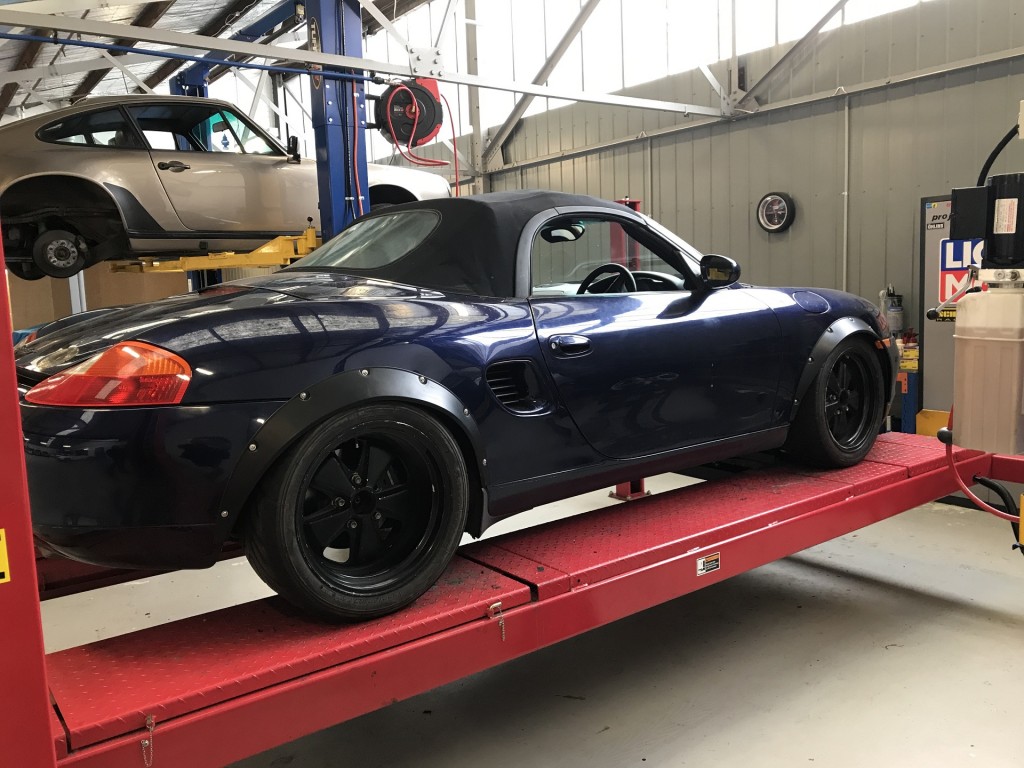 But the point is this. Do you have the expectation that the Falcodore or VW or even the Porsche of today will entertain you in such a way that you laugh to the point of tears? Will it turn every trip into an adventure, wondering if you'll make it? Can you make it go faster and stop quicker in the comfort of your own lock up garage without having to study computer technology? Will it prompt you to write about it 40 something years later? I suspect not. Therefore expectation unfulfilled.
Written by Robbo (Ian Roberts)